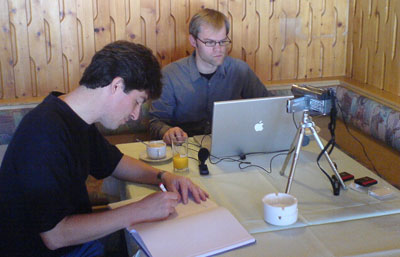 This is the first time I've attempted to use my mini dv-cam to get some footage of talks and interviews at the snowsprint to use for video casting. Along with Nate Aune of Jazkarta/Plone4Artists, I have been shoving camcorders in people faces, positioning tripods precariously on ledges and bars and trying to get some footage. I've already managed to damage my camera when it fell off a chair at least once.
For future reference, here are a few notes:-
Hard disk space
An hours footage works out at about 11gb of disk space when dumped onto my laptop. I usually only have about 10gb free to play with so a large external disk is a necessity (I left mine at home).
Remote control
As I write this, my dv cam is positioned up on a ledge waiting for a talk to start – I have a remote control at home, wouldn't it be great if I had bought it so I don't have to start climbing up on chairs to set it recording.
Editing time
Don't underestimate how much you'll need, even if you don't take into account the time it takes to get the footage off the camera (real time) and compressing the end result.
Loads of spare tapes
If you haven't got the time or disk space to offload the footage, a stack of blank tapes would be useful.
NTSC and PAL
We need to share footage captured on both NTSC and PAL mini-dv cams – I'm hoping hi-quality quicktime exports in some intermediate format should be suitable for this.
Podcasting
Googling around it seems that the ideal format for a video podcast (i.e. suitable for iTunes and video iPods) is mpeg 4, 320 x 240 pixels, 30fps for good quality. AAC audio.
Screencasting
Snapzpro seems to be a good solution for mac osx, especially if you want the result to be in quicktime, so you can cut the footage in with video in iMovie – cheap alternative to camtasia (haven't tried it yet, although camtasia does swf)
iSight microphone works well for screencasting apparently.
Vnc snooping or screencasting software on presenters machine would be good so a presentation can be filmed with a human element to it and screen footage edited in afterwards, rather than just videoing a projected screen.
Data transfer
firewire cable useful, especially between two macs – one in target mode. USB key also v.handy for transferring smaller files where firewalls or other factors are stopping network file sharing.
Editing
Never believe the "time remaining" progress bar in the export dialogue iMovie.
(I wonder how fast a macbook pro will be in comparison?)
Part of the value of Videocasts is their timeliness – it is easy to get bogged down in editing. Before another event like this it would be a good idea to prepare opening screens, title and credit format etc, maybe in an empty project that can be copied and used as a template so footage can be dropped in, trimmed, titles added and exported quickly.
Using powerbooks for transcoding/ compressing is viable, but slow
archived comments