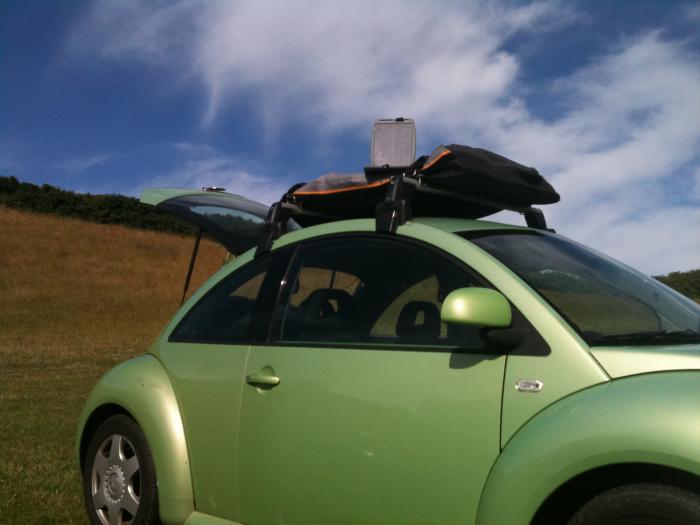 An opportunity came up at the weekend to head down to croyde in devon to try out some of the new camping gear and kit. I had a deadline, so there was a genuine need to work while we were down there. The campsite (sorry – top secret!) didn't have much in the way of mobile coverage last time I went, but things have obviously moved on, as I was getting a full 3G signal with t-mobile on my iPhone. The nearby beach at Putsborough sands had zero signal, which was probably a good thing as I had just bought a surfboard!
The Quechua base tent and picnic table (pictures and post to follow) worked a treat as an ad-hoc office, and I kept the macbook running from the leisure battery, which had some charge from the car on the way down. It kept me going for an evening shift and left me with a charged macbook, but the charge indicators on the battery only showed one out of four when I had finished. One thing I did notice is that I need some kind of reading light to light up my keyboard working in the near dark (yeah, yeah a new macbook pro with backlight keyboard is appealing right now!)
I charged my iPhone via USB directly from the solar gorilla – it turns out positioning really does make a difference. If I layed the gorilla flat, the iphone would complain "charging is not supported with this accessory", but with it angled to the sun it charged. I also kept the solar gorilla plugged in and charging the leisure battery when it wasn't charging the iphone, with negligible results I suspect.
My attempt to do a bit of work at a cafe in Braunton failed miserably – not only did their wifi not work, but I then proceeded to leave my bag with netbook and powergorilla in it at the cafe when I left, leading to a panic drive back to collect it..
I'm pushing the envelope with what we can realistically carry in our tiny car. These working road trips are also family trips, so tech and camping gear is fighting for space with bodyboards, wetsuits and toys. This is only possible in our car because 1. we only have one kid so we use the rest of the back set for camping gear, and 2. because of the carnopy roof bag, which we somehow manage to get a load of stuff in. After buying a surfboard off a friend in a beach car park at 5.30am, I was in danger of not being able to carry it home when the rest of the stuff was packed on the roof, but by removing the aerial I was able to jam it under the roof bars. Needless to say I was really eyeing up VW transporter vans this weekend…