Rocky, our VW T25 Campervan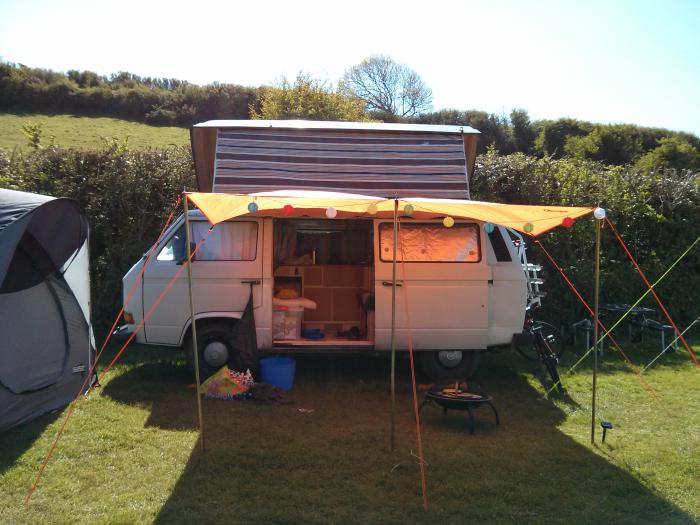 In September 2012, we bought Rocky, a 1983 VW T25 Devon moonraker campervan. The T25 (also known as a T3 across most of europe), is the last version of the rear-engined VW transporter-based campers, and is affectionately known as the "brick", or "wedge" (on account of its box-like shape), and was styled to be in line with the other VW range of the same era, i.e. the front grill and lights resemble those found on the old golfs and passats of the time. The earliest T25s had an air-cooled engine, but then VW swapped to water-cooled engines.
This is actually my second T25 – back in 1997 I had a blue panel van which I converted into a basic camper and went travelling around Spain in for six months (I will blog more about that van and the adventures I had in it another time). I had to let that van go, because it needed an engine rebuild, and at the time I hadn't got the time, space or skills to do it myself, or the money to pay someone else to do it. I've hankered after another camper eversince, but not necessarily a T25, so I wanted to blog some of our reasons for choosing this one.
Our checklist
Over the years i've spent hours trawling the web looking at campervans, so when my wife and I decided we should go ahead and get one, I had already narrowed down a set of criteria for what to look for:-
Already kitted out as a camper van.
This was one of Jo's conditions – although I would be happy buying a van and doing a DIY conversion, she quite rightly pointed out that i'd never find time to finish it and we'd end up with a "tin tent" – i.e. just a van with curtains and all our camping kit in it! Rocky had the full conversion – pop-top, beds, Electric hook-up, 3-way fridge (12 volt, 240 volt and gas), propex heater, cooker with 2 rings + grill, leisure battery with split charging, storage and proper curtains.
Under four grand.
Although we will end up spending more improving this, we had a fairly tight budget – there's not many professionally converted campers on the market for that budget. The budget really narrowed it down – there is plenty of choice for 2-berth self-converted vans, which would be perfect for a couple, but you really need something more practical if you have children. We got this one for well under that with money left over to insure it and tax it, plus pay for a few bits and pieces we needed to start using it. Being less collectable/ desirable than the older classic vw campers there are bargains to be had.
Sleeps four comfortably
We are only a family of three, but with a double bed in the pop-top and the rear seat pulling out into a 3/4 width double (known as a "Rock n Roll" bed) there is plenty of sleeping space. It is also possible to fit a child-size bunk across the front to sleep another mini-person, although there are only seat-belts for four.
Seat belts in the rear.
Ours has one 3-point and one lap belt in the rear. Lack of rear seat belts ruled out most of the self-converted campers we looked at.
Diesel, rather than petrol engine.
Old diesel engines last longer than petrol engines and get better mpg. Diesel also generally costs less than petrol on the continent (unfortuately not in the UK). Rocky has a 1.6 naturally-aspirated diesel golf engine – frugal, but not exactly powerful. In fact an engine this small in a vehicle weighing 2-tonnes, and having the aerodynamics of a brick is a bit of a compromise, and a more powerful diesel engine is on our list of future improvements.
Able to cruise at 56mph – the speed that HGV's are limited to across europe.
With the current engine we can cruise at 60mph on the flat, but it struggles on hills, often finding us in the crawler lane in third gear at 40mph on motorway inclines, which isn't ideal.
Low depreciation
I hope Rocky will be with us for many years, but if we needed to sell him, we wanted something that we can potentially sell for the same, or even more than we payed for it. The T25 doesn't fetch as much money as an older classic VW transporters, but they will hold their value if looked after, and will go up in value if improvements are made. The real issue is how much you spend in the meantime.
Small enough to keep on the street near our house, and to fit in normal car parking spaces in supermarket etc.
Rocky's footprint is about the same as an estate car, so can be shoehorned into car-sized parking spaces. He is also quite narrow, so suitable for narrow european streets. He doesn't have power steering though, so parallel parking can be a bit of an effort.
pop-top for standing room and bed
we possibly would have considered a permanent hi-top, but I was concerned about fuel economy and height restrictions in car parks etc. Height restrictions can still be a problem with this pop-top, which is 2.3m high at its highest point.
The unexpected advantage of a 30-year old classic van is that it can be put on classic insurance, which with a limited mileage restriction really brings the price down. If we could get it on a driveway or in a garage, the price would come down further. We were starting a new insurance policy, as we are keeping our car on the road – a new non-classic policy with zero no-claims would be very expensive and might have been a show-stopper.
Another advantage to having a classic camper is the community of enthusiasts, who are able to offer advice and encouragement. Club 80-90 for T25 owners has an active forum, and there is usually a club 80-90 presence at VW and camper festivals that happen each year.
Apart from ticking all the boxes for what we wanted out of a camper, I have an affection for the T25, having owned one before. As soon as I got behind the wheel for a test drive, the memories flooded back and I knew we would be buying him.
Reasons not to get a T25
Having explained why we chose the T25, I'll also talk about possible reasons why you might not want to get a VW T25:-
They don't drive like a modern van
Even though the T25 drives better than an older classic camper (in my opinion), they are some way off a more modern T4 or T5 transporter in terms of handling and performance. Obviously they can be improved by putting better engine, brakes and suspension upgrades in, but if performance is your thing, you should probably save up for a T4 or T5.
The petrol versions are very thirsty
The most common engine for a T25 is a 1.9 water-cooled flat-four engine. Although they go quite well, these will only do about 15-20mpg, so unless you have an LPG conversion, they are expensive to run. For anyone in the U.S. reading this, petrol in the U.K. is currently £1.40 per litre, which works out about $8.60 per US gallon – I think you can appreciate why 20mpg isn't acceptable over here!
They are old vehicles
Although T25s are a simple and reliable vehicle for their year, you have to be something of an enthusiast to put up with the mechanical and electrical issues that will inevitably crop-up on a 30 year old vehicle. If that's not your thing, start saving for a modern vehicle!
So far we are really pleased with Rocky. We've had a few minor issues (which i'll blog about in due course), but have made the right choice, and Rocky is a keeper. We've done several nights camping – even in December, thanks to electric hook-up and a fan heater, and looking forward to adventures this year.