Plone Skinning SkillSwap was a success!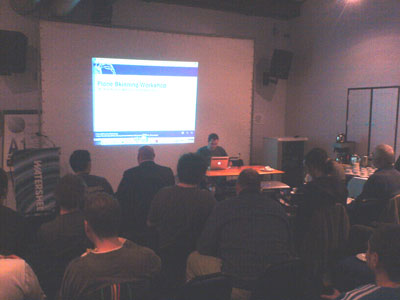 I am really pleased to say that the Plone Skinning presentation last night was a success! About 30 local web designers/developers and people interested in using Plone turned up – a much higher attendance than my previous "Plone Demo" talk. I used the Plone S5 product to create a simple set of slides with a few bullet points to keep me from jumping around too much, but it was mostly a hands on presentation demonstrating a bit of basic customisation via the ZMI, then the process for creating a filesystem based skin.
I ran plone locally and used dreamweaver (in code view with large fonts) to do ZPT editing to keep things familiar for those designers who may be scared by the idea of terminals and Emacs!
I also tried to dispell the "all plone sites look the same" myth by taking a random design I had knocked up as a static html page and inserting the minimum possible ZPT markup to make it function as a front end plone main template rendering the body content and portlets (with none of the plone CSS).
The Q&A was really good – it ranged from basic questions about templating to "can plone do….?" type questions. I think I managed to field them all fairly well – i'll have to wait to see the video (coming soon) to listen back for any clangers I may have made. I was disappointed however that all the free beer had gone by the end of the Q&A – a conspiracy maybe? "psstt… keep Rick talking while we drink all the beer – ask him if there is a cow-milking module available…".
The event was sponsored by Knowledge West (room/projector hire/buffet) and beer kindly provided by Team Rubber.
archived comments