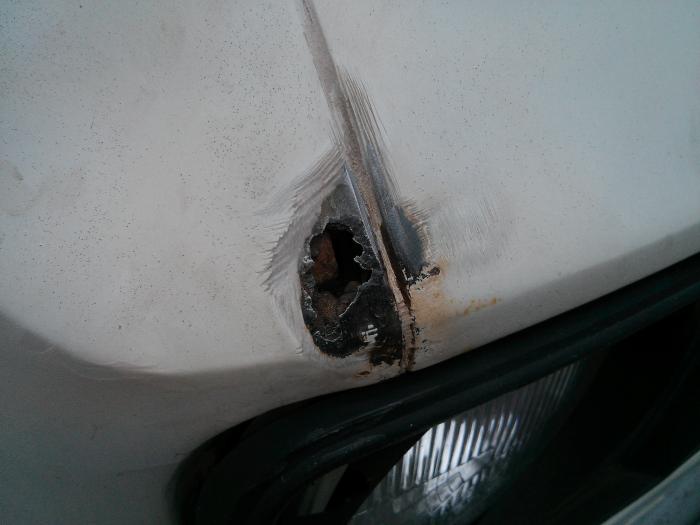 So Rocky has now passed his M.O.T., but after picking him up from the garage I only drove a few metres before attacking him with a drill-mounted wire brush!
When we got Rocky at the end of last summer I spent a few weekends sanding and treating rust patches before painting on some anti-rust primer, with the intention of spraying on a top-coat of enamel paint at a later date. Then winter thoroughly set in and it has been too cold and wet to do anything eversince, and I knew the rust would come back through.
Luckily i've now got some space in a friends warehouse for a week or two to store Rocky undercover overnight, so I can work on the bodywork and get it out of the rain/ overnight dew.
I removed the flap that covers the sliding door rail, to reveal the worst area i've found so far on the van, and the cause of the annoying rust streaks that appear over the rear wing. Everywhere else has turned out to be not too bad considering – a few small holes, but nothing that a bit of filler won't sort.
The rear bottom panel is also in a bit of a sorry state, as well as being rusty I think it has been pranged at some point.
One day we'd like to get a full professional respray, including proper restoration and panel replacement where necessary. We haven't got the budget for that right now, so i'm relying on the fact that Rocky is currently a patchwork of different shades of white to allow me to touch up areas myself with a rattle spray can.