Basket, bell that rings and things that make it look good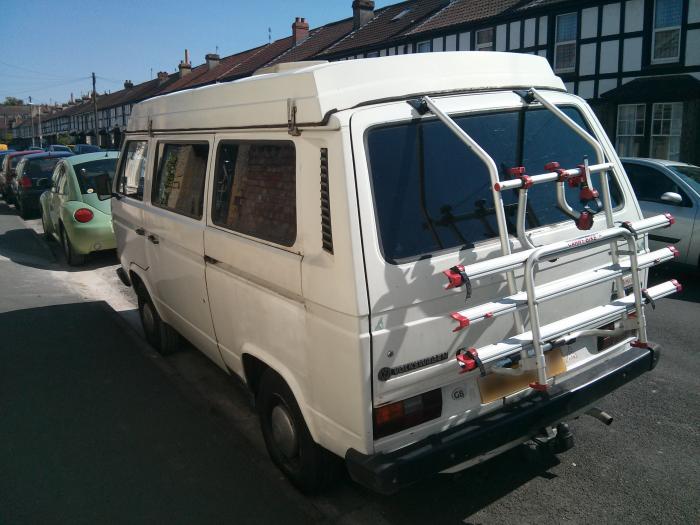 Over the last month or so i've continued to add things to Rocky – no actual basket or bells (that's just a Pink Floyd reference), but I have had the rear windows tinted, added an insurance-approved immobiliser and wired in a reading light and a couple of fans. This is in preparation for an upcoming Europe road trip – just a short one, but hopefully the first of many.
The tinted windows are mainly for privacy, but should also help to keep it cool inside, by filtering out most of the UV light. In conjunction with an extra set of curtains across the back of the front seats, we can now transform the bus into an instant surf changing room, or private office with minimal effort. We'll still use the thermal mats and curtains to keep the cab private, and no-doubt still use all the thermal mats for winter camping. The tint is known as "limo" – the darkest option only allowing 5% of UV through – we thought if we are going to bother at all, we might aswell make it as private as possible. You can still see out fine. We've also kept the original curtains, to help keep it dark inside for sleeping – I added some strong neodymium magnets into the hem, in an attempt to keep them stuck at the bottom, rather than dangling around – I often end up sleeping with my head outside the curtain! This seems to work well and is more elegant than adding a curtain wire retainer.
The immobiliser was added because it seems VW campers are a popular target for thieves, being easier to steal than modern vehicles, and there being a ready second-hand market for vehicles and spares. Hopefully it will bring my next insurance premium down too. I'll carry on using the steering lock too, mainly as a visual deterrent – belt and braces!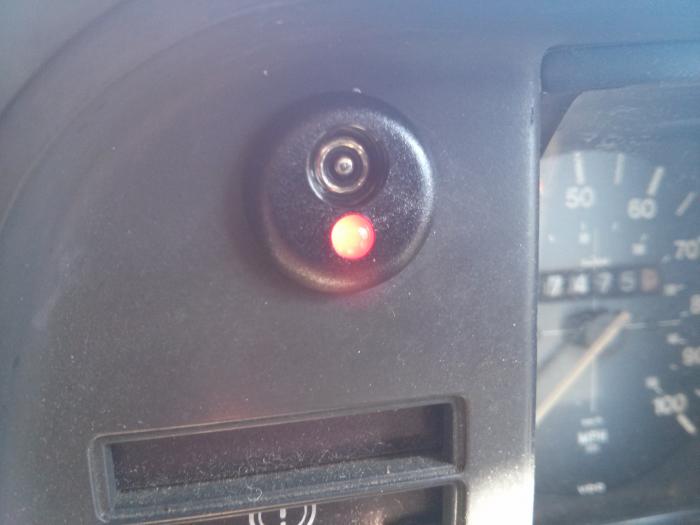 The 12 volt LED reading light will be more efficient and provide a nicer after-dark ambience than the stark white light of the strip lights. It's also got a flexible stem so can be positioned as a reading light or uplighter.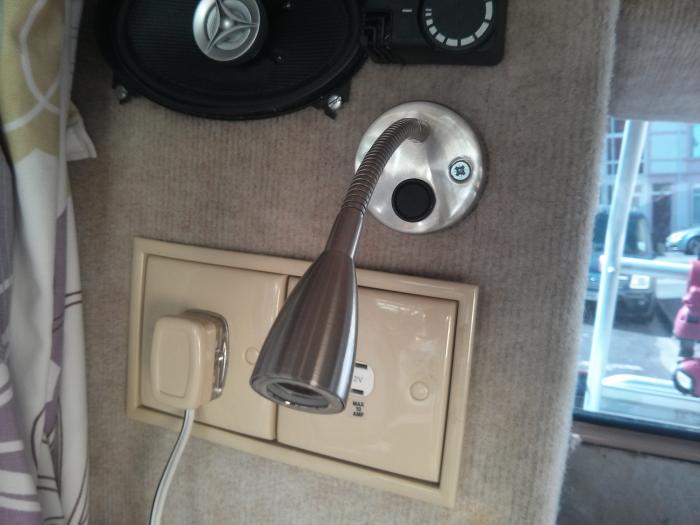 I also permanently mounted a carbon monoxide detector on the wardrobe (not pictured), seemed like a sensible thing to have somewhere where it will be effective (not much use if it's hidden away at the back of a cupboard).
I've stuck a 12 volt steel retro fan in the front, wired into a 12 volt cigar lighter socket splitter, so we can also plug in phone chargers, sat nav etc. One of the things still on my list is to make sure that this 12 volt socket and the stereo is wired into the leisure battery circuit rather than the starter battery, as no doubt these will be running for long periods of time when parked up. I've also added another fan in the back above the passenger seat.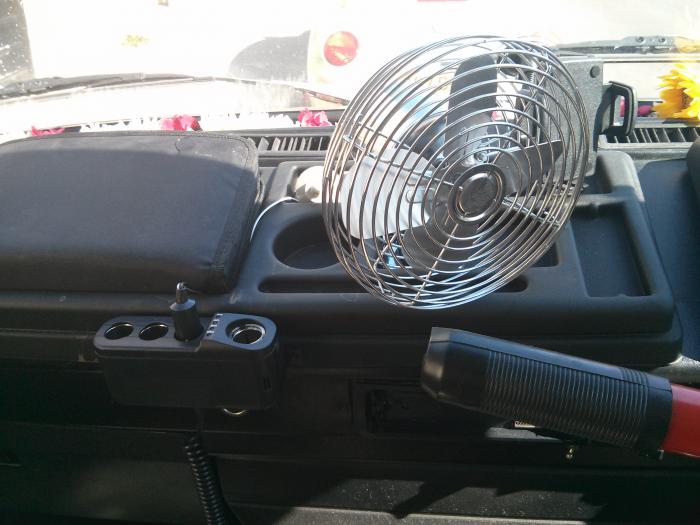 Lastly I added some extra magnet catches to the cupboard doors, which have a habit of flying open when we go around sharp bends and depositing the contents all over the floor (i've lost count of the times i've ended up with a jar of mixed herbs flying round the floor, threatening to smash!). I then added some handles so we can actually open the doors with the added magnets, without breaking fingernails!