European holiday road trip 2013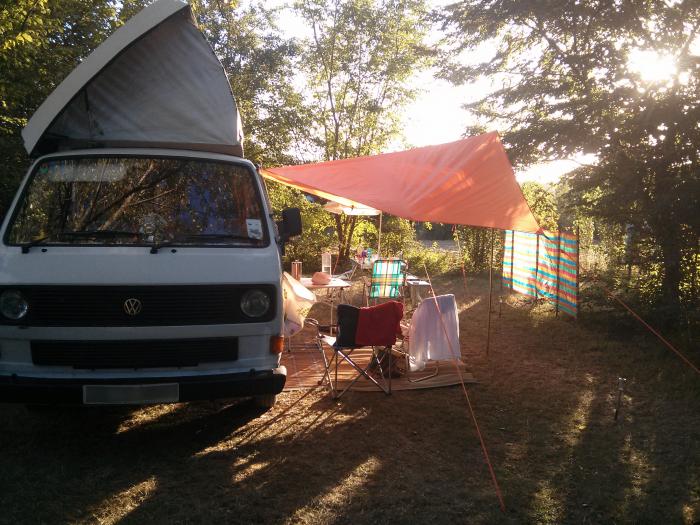 At the end of July, we headed off in an unprecedented UK heatwave to Portsmouth to catch a ferry to Santander in the north of Spain. Despite the cost of the ferry, we decided that for Rocky's maiden continental Europe voyage (under our ownership), we should get closer to our first destination under boat power, to ensure that if we got stuck, we'd get stuck in the north of Spain or south of France, rather than a few miles south of Calais.
I couldn't help think back to the last time I caught a ferry to Spain in my old T25 – the van refused to start when the ferry started boarding, so people had to drive round me for a few minutes until it finally started and managed to get on board. No such problems this time, although I was one of the annoying people sat in the queue with the engine running way before I needed to start – partly because I have to go through the "disarm the immobiliser" + "wait for the glow plugs" routine very time I start so there is a good ten seconds between deciding to start the engine and actually starting it, which seems much longer when people are waiting behind!
The Santander ferry worked out really well – a 24-hour relaxing trip, in glorious sunny weather on calm seas, the holiday was truly started. After arriving, we took the short drive to our first campsite, at Cabo del Mayor above Santander. I had emailed the campsite trying to book a pitch, but they don't take reservations for short bookings, so we took our chances and just turned up. Luckily they had space (though very tiny pitches compared to most french sites) so we parked up, opened some wine and relaxed.
If we had more time I would have liked to spend more time in Santander and the north of Spain, but we didn't have that luxury, so after breakfast the next day, a coffee and stroll around the lighthouse at Cabo del Mayor, we started heading in the direction of France and found space at Camping Igueldo, high up in the hills above above Donostia San Sebastian. That night we sat and watched out of the van windows as our sun canopy buckled under the weight of water and ice thrown down by a massive thunderstorm. Luckily the canopy detached itself from the van before anything broke, and it all dried out in a couple of hours the next morning.
Heading off in the morning we experienced our first mechanical issue – Rocky suddenly lost power while heading through San Sebastian, and we found ourselves limping along at 20mph leaving a cloud of white smoke. so we pulled over at a bus stop, where he conked out. After reluctantly restarting, the engine seemed to be ok again, so we tried moving on, but after a couple of minutes the same thing happened again, this time while sat on a bridge over a railway. The inevitable despair set in – the thought of having to make the breakdown call, the thought that the engine would be in pieces, the thought that the van would be towed away leaving us stranded with nowhere to stay. As the camper was fully loaded including three bikes on the bike rack, it was going to take a good 20 minutes to get to the engine hatch to see if there was anything obviously wrong, so we decided to make one last push to try to get ourselves somewhere safer. We started the van again and limped through a short tunnel with no hard shoulder.
The engine seemed to be running fairly well again, so we made it through the tunnel and a couple of miles up the road before reaching a petrol station with car park, so we pulled over and decided what to do. The engine was running again, it wasn't overheating, it wasn't making any strange noises, no smoke, no oil or coolant puddles underneath, and there was nothing unusual hanging down from the engine from what I could see from underneath, so after a cup of tea we decided to wing it and carry on. A couple of hours later, after cruising at motorway speed faultlessly for about 100 miles, we pulled into our next campsite "Camping La Jaougotte" in a pine forest near Vielle-Saint-Girons, in the Aquitaine region of France. We put the power loss down as an "intermittent" fault, maybe caused by dirty fuel or a blockage of some kind.
Driving around the local area a couple of days later, on one of several trips to the beach and lake, the power loss happened again and this time the problem didn't go away. Trying to diagnose the problem myself and with the help of a dutch T3 syncro-owning campsite neighbour, we spotted a tiny split in the fuel hose near the fuel pump. A gaffer-tape DIY fix looked promising, but didn't stop the problem – possibly because it wasn't a good seal or possibly because there was already too much air in the pipe. If i'd known at that point that the split was definitely the cause of the problem (it was) I would have persisted, and tried to bleed the air out of the system, but at that point I was stumped.
Eventually, a day later I swallowed my pride and made the breakdown call. A few hours later a man turned up with a truck and (after some half-hearted wiggling of spade connectors) towed Rocky away to a local garage. We decided to go to the campsite bar to commiserate. That's when we spotted the warning that a heavy thunderstorm was forecast for that evening. Knowing that the van was very unlikely to return that night we started preparing to spend the night in our tent. We generally take the tent to use as a kind of shed – somewhere to store all the stuff we don't want to keep in the van. Although we own a groundsheet and bedroom inner for it, they weren't with us. It was quite depressing to think that we would have to squeeze ourselves and belongings into this tent and sit out a thunderstorm, potentially with water coming in from underneath. Luckily, our syncro-owning campsite neighbours bailed us out by loaning us a spare two person tent, so at least Jo and our kid would sleep in the dry!
We survived the night, and the thunderstorm, and the next morning was fairly depressing, because we had no means of boiling the kettle, and we were also contemplating what would happen if the garage decided that they couldn't fix the problem. Our breakdown cover would in theory give us a hire car, so we could drive to a decathlon and pick up some camping gear and carry on our trip, but we already had too much stuff (bikes, camping tables, the mattresses from the camper etc.) to fit in a normal car, which could be problematic.
There was also paranoia over an issue many vintage camper van owners have faced when the vehicle can't be fixed and the breakdown insurance company decide to ship the vehicle back to the UK – someone in an office somewhere will look up the "market price" of a stock 30 year old van in a database and decide it isn't worth enough to have it repatriated back to the UK, even if you have proof of agreed value. They then offer to scrap it for you! Thankfully a few phone calls later (via 3rd parties, my french is nowhere near good enough to deal with this kind of thing), we established that the van was fixed and waiting for us to pick up, so luckily I never got to find out what would happen in the worst case scenario.
The garage had replaced a short section of fuel line next to fuel pump, and bled the system. A nervous test drive or two later, the problem didn't show its head again, so we moved on the next day. A lot of worry over a very simple problem, and a very simple fix. I do however plan to have all the fuel lines replaced in the near future, following some wise advice given to me on the club 80 90 forum – if part of the fuel line failed, the rest can't be far behind. I also need to address the related issue where the fuel tank overflows if you fill it all the way to the top.
We then spent a relaxing week or so at a campsite in the village of La Romieu, in the Gers region, chilling out, swimming, sunbathing and catching up with friends before eventually deciding we need to start moving north. We headed all the way up to Saumur in the Loire valley in one go – a long motorway trip, stopping only once to top up the oil (more on that later). We spent a few days at Camping Chantepie, before deciding that we would head to a site near Roscoff in Brittany for a couple of nights before catching the Roscoff to Plymouth ferry. We found Camping des Abers near Landeda, right on a beautiful beach.
After the uneventful crossing from Roscoff to Plymouth we headed back up to Bristol with no issues. Apart from the obligatory traffic jam two junctions before Bristol adding on an extra couple of hours..
One thing that became apparent on this trip is that the 1Y engine we had fitted earlier this year is using (or losing) far too much oil – on motorways it gets through nearly a litre over a hundred miles. I need to address this before I would do another long trip, whether that means a repair (new piston rings?), getting the engine reconditioned or even remanufactured (making it like new, but costly) or another engine swap. Luckily the van is still perfectly useable in the meantime, i'm happy to use it for shorter trips, as long as I keep topping up the oil, so there is no massive hurry.
Apart from the engine issues, if I was doing the trip again, i'd definitely take more camping gear for "emergencies" – the inner compartment/ groundsheet for the quechua base, a second tent and a portable stove, as insurance against the van being taken away again – hopefully something i'll not need!