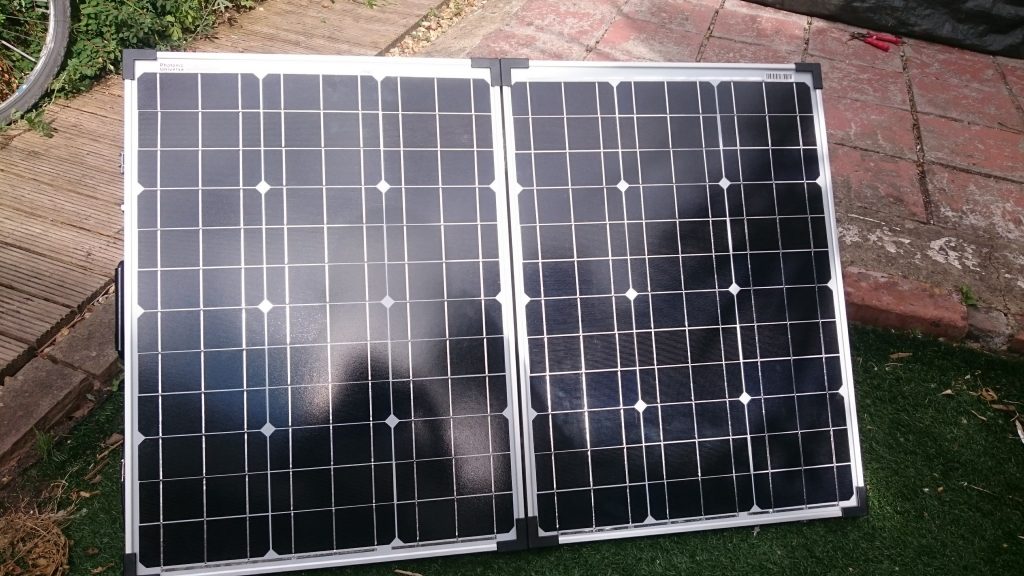 Although I like to use our campervan as a mobile office, I mainly work from a home "office" built in an existing shed. The breeze-block building was already there when we moved in, and luckily it is big enough to create an area where I can work.
It's a typical "ongoing" project, started a few years ago by partitioning off an end section to remain as a proper shed, and then building out an insulated area with it's own entrance. Nowhere near finished, it still looks very much like a shed on the inside, but I have plans for wood panelling (inside and out) and stylish lighting to make it instagram worthy!
We do actually have mains electric running out to the shed, so it doesn't need to be off-grid, but as I already have most of the kit needed, why not?
The Solar panel
I recently bought a 100 watt portable solar panel kit made by Photonics Universe to use with the camper van, but also wanted to see if it would be possible to use it to keep my home office powered. The kit has a waterproof charge controller mounted on the back, so all you need to do is attach it to the battery, either with the crocodile clips as supplied, or via eyelets. I bought a second connector cable so there is one permanently wired into the van leisure battery and one on the portable battery, making it easy to swap from one to the other.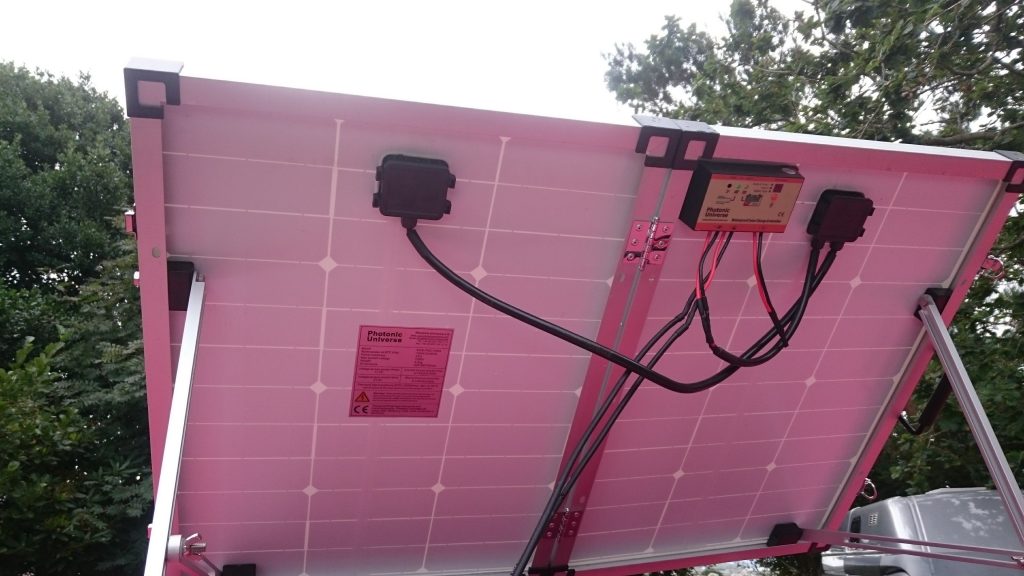 The "Office" kit
It's a pretty minimal set-up – like when i'm in the van, I work mainly from the laptop, but with the added luxury of an external monitor, which is pretty handy when i'm working on any visual layout stuff for a website or web app.
My laptop these days is a 2015 era 13 inch macbook pro, and from looking at the plug-in current meter that I use, it looks though this requires about 20-30 watts to maintain an already charged laptop and 40+ watts when charging. The monitor requires a further 25 watts. In addition to this, I plan to occasionally run a USB powered fan and 12 volt LED lighting, both of which don't require much power – at least in comparison to the mains appliances.
The Battery and electrics
A while ago I took a spare 90Ah car battery and built it into an old toolbox, with voltmeter, 12volt socket and USB sockets to use as a portable leisure battery set-up, so I have the solar panel charging this. Unlike the leisure battery in the van, this isn't as proper leisure battery, so I need to be careful not to let the charge get too low, or risk permanently damaging it. The battery box has a fuse box inside with each item running off a separate fuse.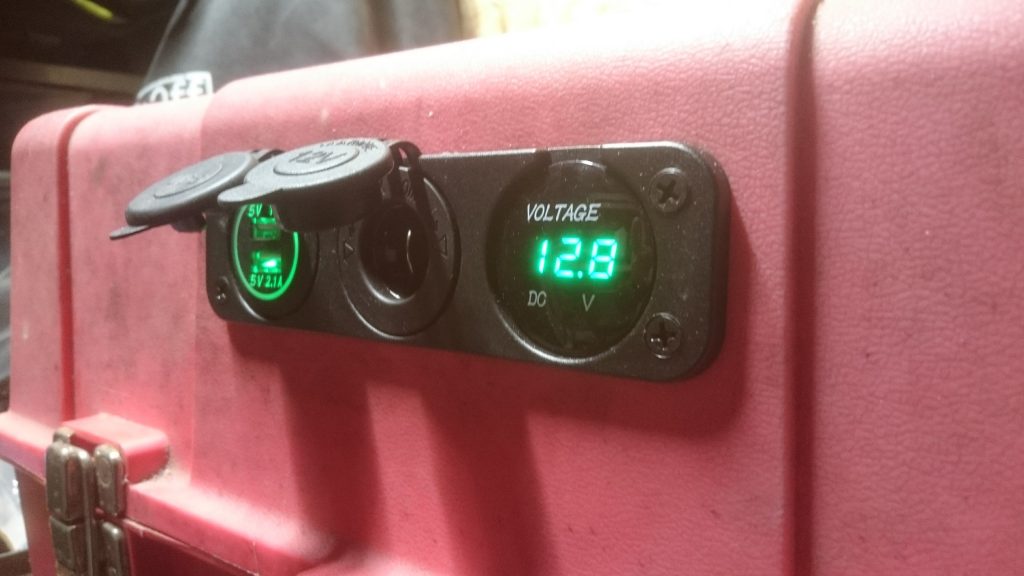 I then wired in another external panel with voltmeter, usb sockets and 12 volt socket, which will eventually be mounted on the wall. I've then got plugged into this, an old Belkin 150 Watt (300 Watt peak) inverter that is usually in the van. I'll likely replace this with something better – a pure sinewave inverter that gives a smoother AC output very similar to mains electricity.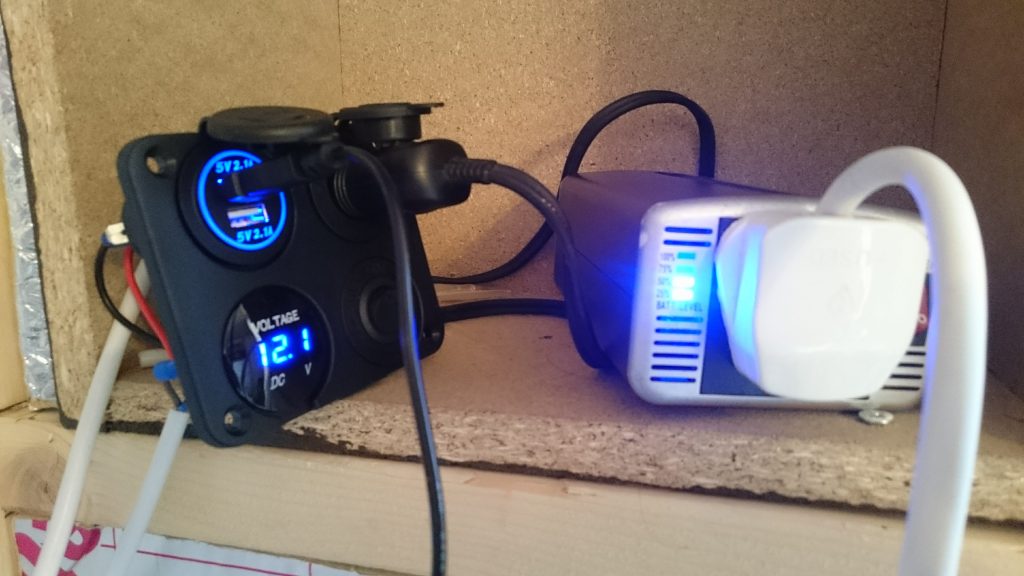 The challenge
The garden, whilst reasonably private for a city and offering plenty of shade, isn't ideal for a solar panel. The light only reaches the garden from about 10am, and disappears about 6pm, even in mid-summer. The panel needs to be moved frequently to remain in the sun. I've spent time imagining building some kind of automated track system to do this for me, and although I have some ideas, I doubt I will ever have the time to realise them! We also live in the UK, not famed for it's year-round sunshine…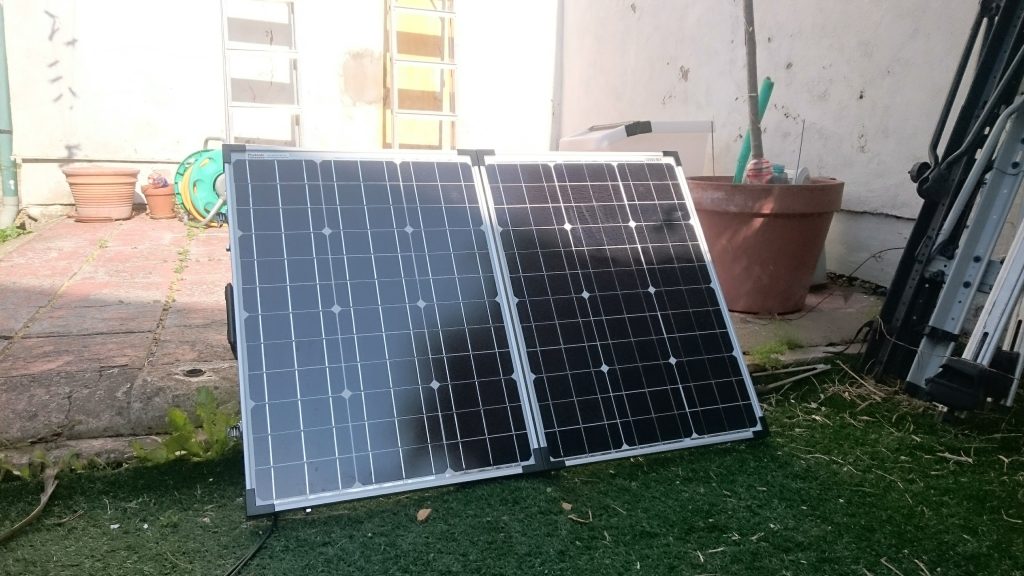 From experience in the van keeping a powered coolbox going (~60 Watts), the panel will have real trouble providing 75+ watts constantly, unless it's in decent all day direct sunlight, so the battery will likely discharge throughout the day, depending on when I finish, how much sun there is and how often I get up and move the panel to be in the optimum position.
I've already found that my external monitor isn't happy running from the inverter – it keeps going into standby, then attempting to power up again then back to standby, as if switching it on causes a power spike that then causes it to go back to standby. Not sure if that's the inverter struggling, or the battery not supplying sufficient current – if the battery is plugged into a mains charger, the monitor stays on, so the inverter is certainly capable, but maybe the battery isn't. It will be interesting to see if a different inverter would make a difference here, or whether the battery isn't up to the job.
I need to try this out long-term to get a realistic idea, but i'm sure that I would benefit from a higher capacity battery (or batteries), so I can rely more on falling back to battery power, which can then be topped up from solar charging over the weekend to keep me going during the week. Having said that, if we are away in the campervan, the solar panel comes with us, so that's not going to work! If I had the budget to do this seriously, I think i'd at least double the solar capacity and the battery capacity.
Heating?
Even though it's well insulated, there's no chance of heating the space using solar (photovoltaic) power – any electric heating appliance, such as the Daewoo 2500 Watt oil filled radiator which I use in the winter uses way more wattage than could be provided by my inverter, and even with a high power inverter, massive bank of batteries and thousands of watts of solar panels you would struggle. The only realistic off-grid heating option is a wood burner or something gas powered, both of which aren't cheap and would need to be carefully installed for obvious safety reasons.